01 May

Cisco to Acquire Accompany
Accompany | CEO and Co-Founder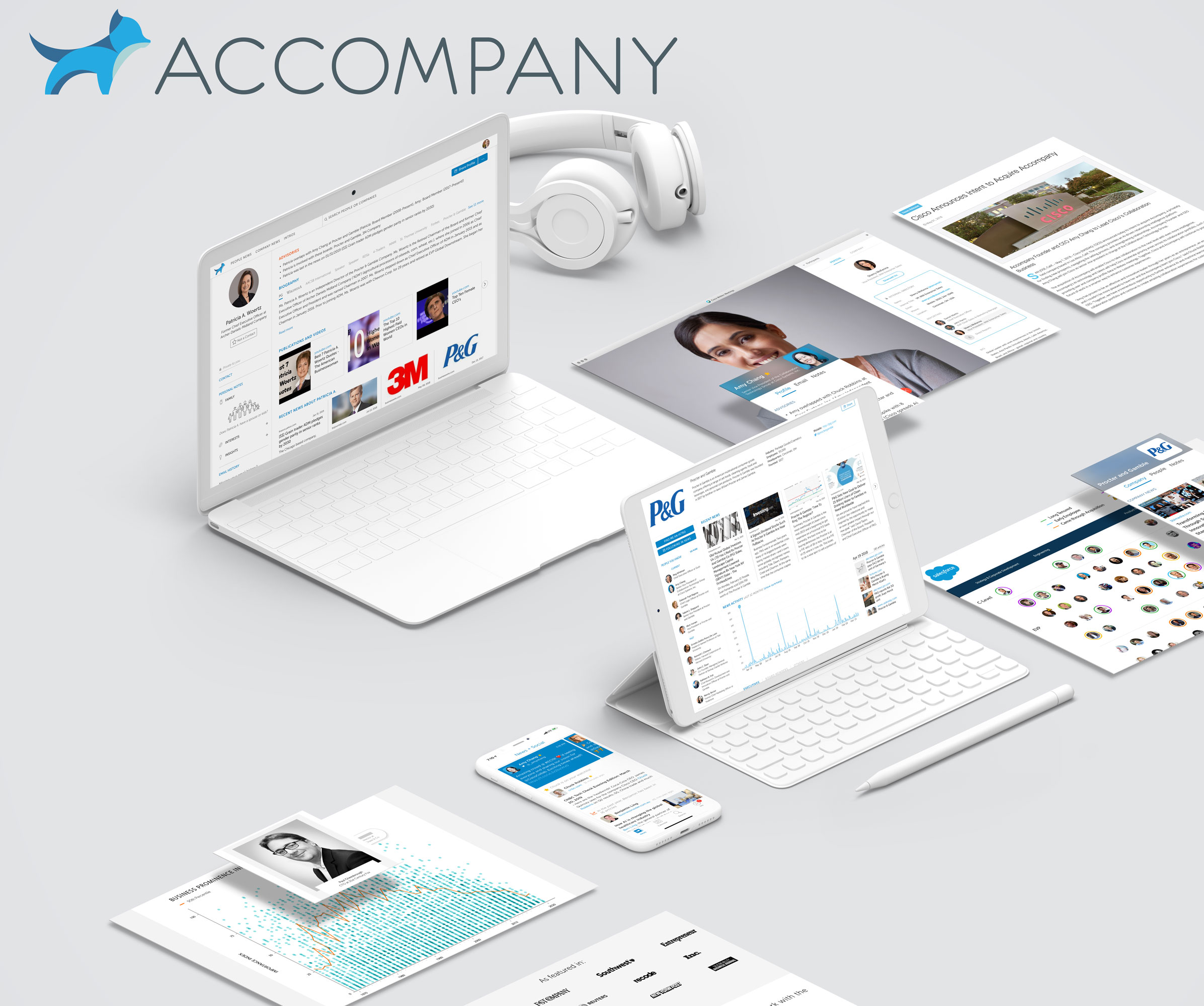 About Accompany
Accompany developed comprehensive, real-time profiles for every single Fortune 500 CEO. Our AI-driven database provided rich, relevant insights for millions of people and companies, so our users could always find the right people and build stronger relationships.
Founded in 2013 by Amy Chang, Matthias Ruhl, and Ryan McDonough. Accompany was headquartered in Los Altos, California. The company was backed by CRV, ICONIQ Capital, Ignition Partners and Cowboy Ventures. Over the course of 3 funding rounds, Accompany raised $40.5M.
Accompany was acquired by Cisco Systems in May 2018 for for $270 million in cash and assumed equity awards.
Accompany – The Executive's Best Friend
Wish you had someone working through the night, constantly looking out for you, searching for information to make your days run more smoothly? Accompany delivers all your people and company research right to you so you can be ready for anything.
EXECUTIVE BRIEFINGS
meeting prep, delegated.
Anytime we detect someone new in your calendar, you'll get an Executive Briefing delivered right to your inbox while you sleep. Everything you need to get up to speed, including professional history, relevant news, and key info on their company, is at your fingertips.
RICH CALENDAR
put a face to the name in one tap.
So busy in back-to-back meetings you literally don't even have time to use the bathroom? We get it. Let us help you get up to speed fast with everything you need on the person waiting for you in that conference room.
COMPANY INSIGHTS
any data point, for any company. one tap.
Wish you had a horde of research analysts at your beck and call, waiting to serve you the latest insights on the companies that pique your interest? Financials, quarterly reports, and SEC filings are never more than a tap away.
CURATED NEWSFEED
always be in the know.
Real time news feeds custom built around your contacts and the companies you care about. We're talking about high signal to noise, objective news with no cat videos and no ads.
SMARTER GMAIL
rich insights on your contacts right inside gmail.
Are you drowning in email? The least we can do is throw you a life jacket. Let us help you figure out which emails even warrant a reply by showing you who those people are.
Accompany – The largest database of senior decision makers in the world.
While only 54% of Fortune 500 CEOs have LinkedIn profiles, Accompany has comprehensive, real-time profiles for every single one. Our AI-driven database provides rich, relevant insights so you can always find the right prospects and build stronger relationships.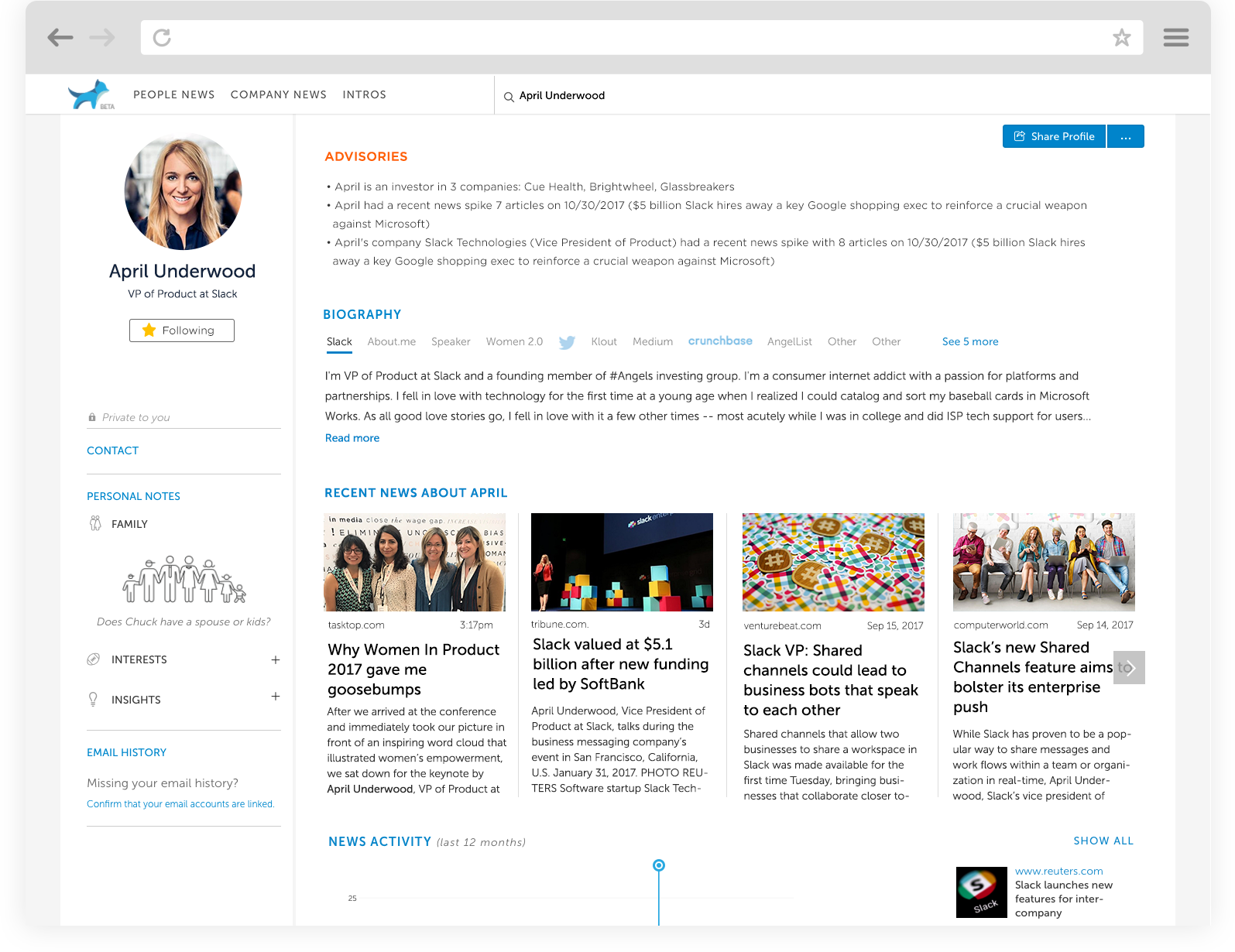 Gain a competitive edge with insights you've never seen before.
Comprehensive, at-a-glance org maps are layered with proprietary insights, allowing you to quickly pinpoint important clients or prospects, competitive affiliations, rising stars, super-connectors and more within the client organization.
E.g. Who are the superconnectors in this prospect's org who have shown more openness/propensity toward external tooling and ideas.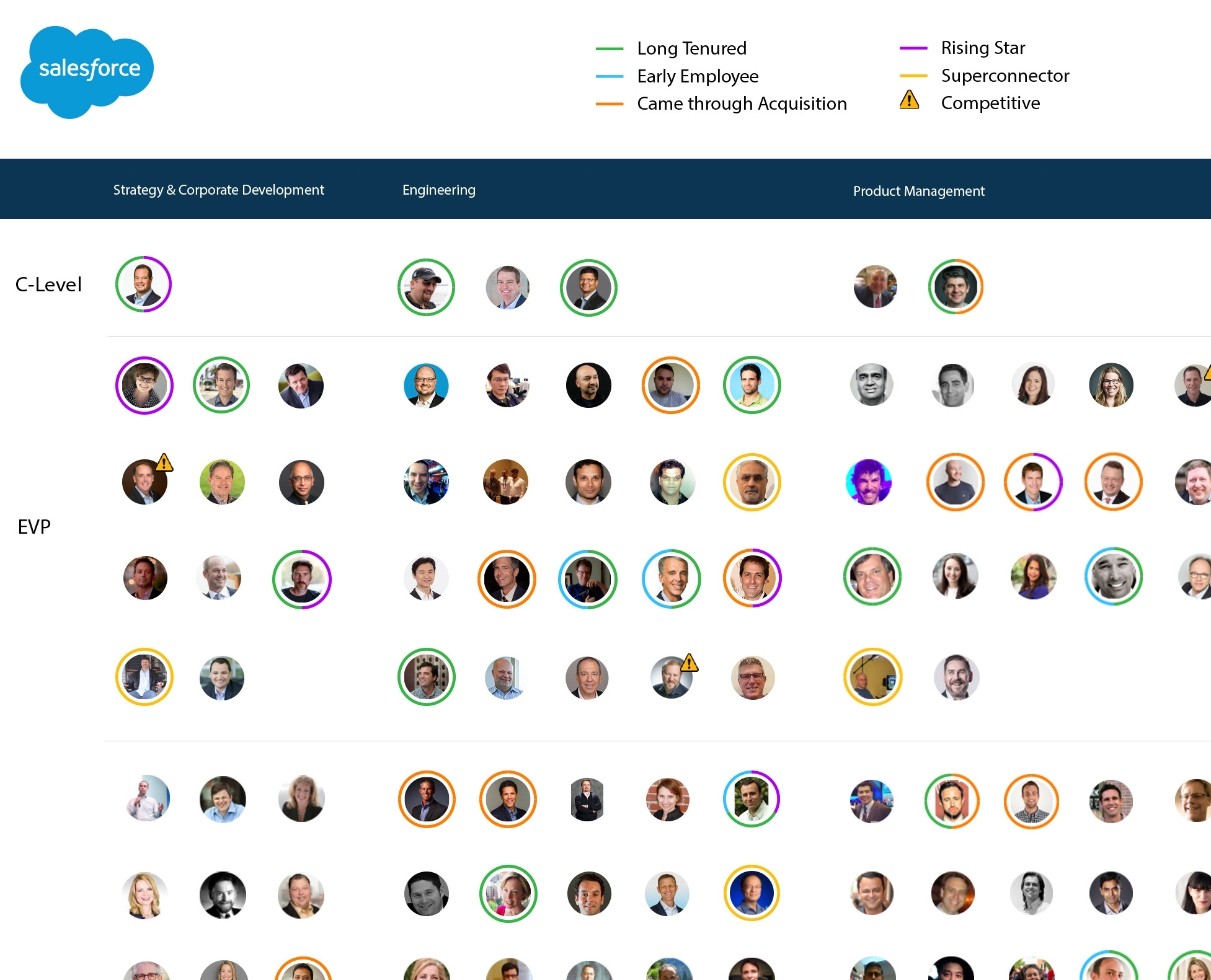 Discover prospects you can't find anywhere else.
Accompany filters through billions of data points to help you identify and connect with the exact people you're looking for, uncovering high-potential targets that others miss.
E.g. Find executives in Chicago, who are female, who have expressed an interest in socially-conscious investing or retirement planning.
Make it personal and keep those relationships tight.
Never miss an opportunity to reach out with real-time news, insights, and executive briefings on the people and companies in your network. Unlock effortless, one touch relationship management.
E.g. As soon as your client joins that new board, we send you a notification so you can be the first to say congrats.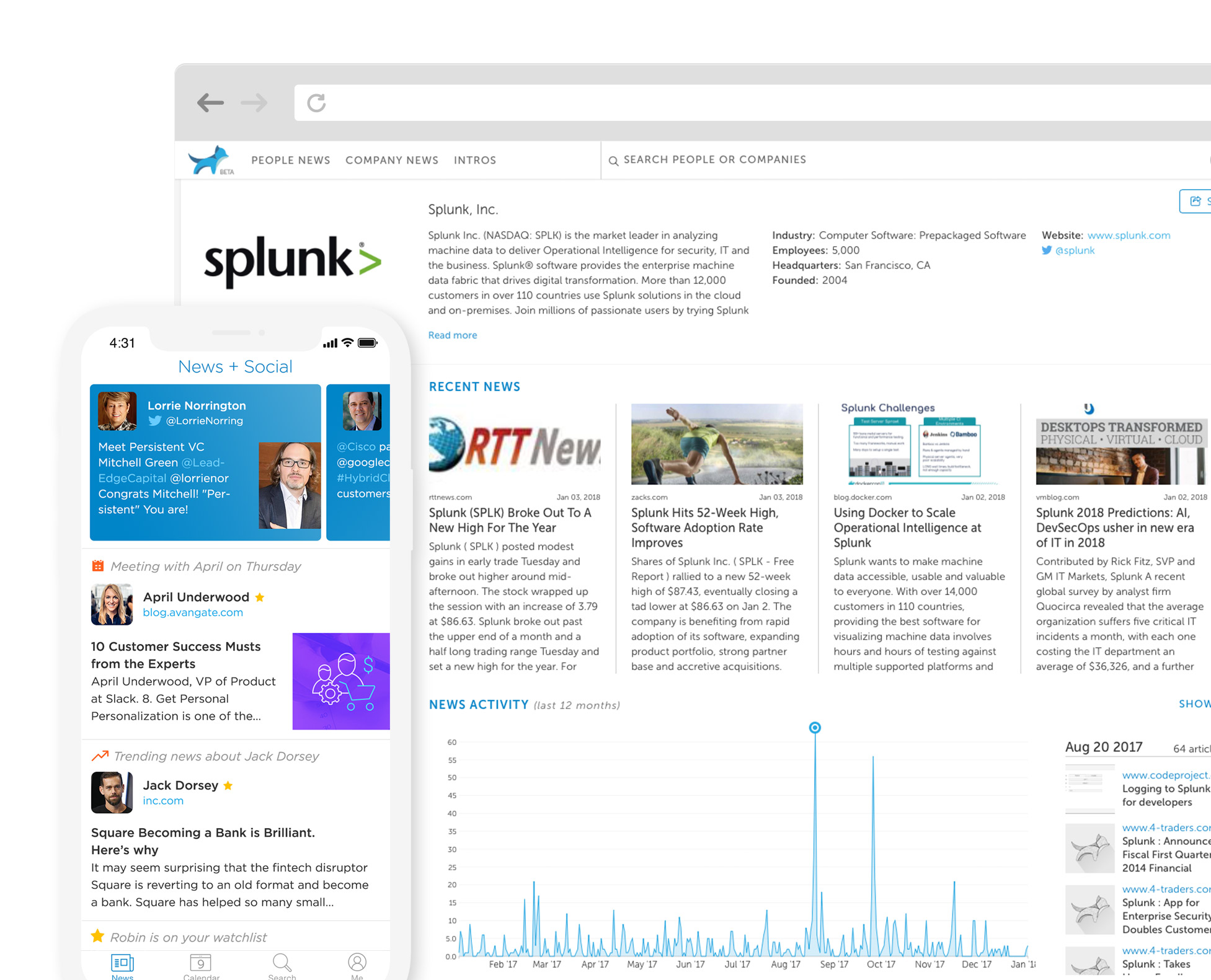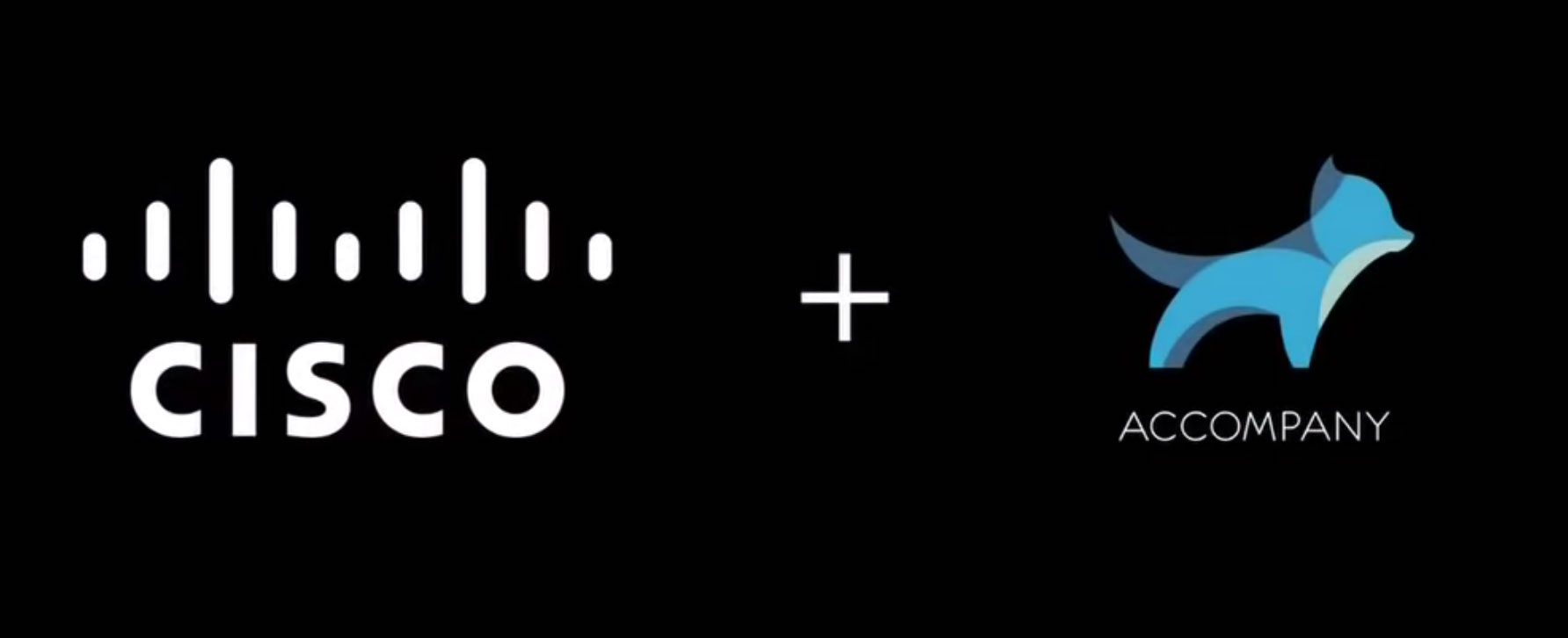 Accompany Founder and CEO Amy Chang to Lead Cisco's Collaboration Business
SAN JOSE, Calif. – May 1, 2018 – Cisco (NASDAQ: CSCO) announced today its intent to acquire Accompany, a privately held company based in Los Altos, Calif. The company provides an AI-driven relationship intelligence platform for finding new prospects, navigating the selling process, and strengthening relationships. Accompany Founder and CEO Amy Chang will join Cisco as senior vice president in charge of the Collaboration Technology Group.
The acquisition of Accompany will enable Cisco to take collaboration to the next level with even more intelligence. Accompany's AI technology and talent will help Cisco accelerate priority areas across its collaboration portfolio, such as providing user and company profile data in Webex meetings. Together, Cisco and Accompany will continue to power the future of work in a smarter way to enhance customer experiences.
"Amy has proven to be an effective and innovative leader through her years as an entrepreneur, an engineer, and CEO, and I couldn't be more pleased to have her and the Accompany team join Cisco," said Chuck Robbins, Cisco chairman and CEO. "Together, we have a tremendous opportunity to further enhance AI and machine learning capabilities in our collaboration portfolio and continue to create amazing collaboration experiences for customers."
"I am thrilled with the opportunity to join Cisco and the industry's leading collaboration team," said Amy Chang, Accompany founder and CEO. "Enterprise applications are rapidly becoming more intelligent and augmented with data and pertinent information in real-time. By combining Accompany's relationship intelligence capability with Cisco's award-winning collaboration product portfolio, customers will be able to more intelligently collaborate with employees, customers and partners."
Rowan Trollope, current senior vice president and general manager of the Collaboration Technology Group is taking the next step in his career and leaving Cisco to become CEO at another company effective May 3.
Chang, who has served as a member of Cisco's Board of Directors since October 2016, has in conjunction with the transaction resigned from the Cisco Board of Directors effective immediately.
Cisco will acquire Accompany for $270 million in cash and assumed equity awards. The Accompany team will join the Cisco Collaboration Technology Group under Chang's leadership. The acquisition is expected to close in Cisco's fourth quarter of fiscal year 2018, following customary closing conditions.
About Cisco
Cisco (NASDAQ: CSCO) is the worldwide technology leader that has been making the Internet work since 1984. Our people, products, and partners help society securely connect and seize tomorrow's digital opportunity today. Discover more at newsroom.cisco.com and follow us on Twitter at @Cisco.
Accompany News
TechCrunch   May 1, 2018
---
Business Insider   May 1, 2018
---
Silicon Valley Business Journal   May 1, 2018
---
Fortune   March 15, 2018
---
Constellation Research   February 25, 2018
---
Fortune   February 15, 2018
---
Forbes   February 7, 2018
---
Entrepreneur   January 4, 2018
---
Inc.   December 19, 2017
---
AngelList   December 13, 2017
---
Southwest: The Magazine   December 1, 2017
---
Business Insider   November 25, 2017
---
Marie Claire   October 11, 2017
---
Born2Invest   September 24, 2017
---
The Wall Street Journal   September 18, 2017
---
Marie Claire   September 14, 2017
---
Entrepreneur   August 27, 2017
---
Computer World   August 10, 2017
---
Business Insider   August 1, 2017
---
Entrepreneur   July 14, 2017
---
Glassdoor   July 5, 2017
---
Forbes   May 15, 2017
---
Startups.co   April 30, 2017
---
The Next Web   March 15, 2017
---
Constellation Research   March 12, 2017
---
PCMag   March 10, 2017
---
Realtor.com   February 28, 2017
---
Mindmaven   February 23, 2017
---
Entrepreneur   February 10, 2017
---
TechCrunch   February 10, 2017
---
New York Post   January 30, 2017
---
First Round   January 26, 2017
---
Innovation Enterprise   January 16, 2017
---
Business Insider   January 8, 2017
---
The New York Times   December 31, 2016
---
VentureBeat   December 29, 2016
---
TechCrunch   December 28, 2016
---
TechCrunch   December 26, 2016
---
GeekWire   December 5, 2016
---
Fortune   December 5, 2016
---
TechCrunch   December 5, 2016
---
Cisco   October 17, 2016
---
Forbes   October 4, 2016
---
TechCrunch Disrupt London 2016   October 4, 2016
---
TechCrunch   September 9, 2016
---
Entrepreneur   September 1, 2016
---
FORTUNE   August 3, 2016
---
TECHCRUNCH   August 3, 2016
---
HUNTER WALK'S FIVE QUESTIONS   August 3, 2016
---
FORTUNE   September 10, 2015
---
SPLUNK   March 11, 2015
---
TECHCRUNCH   November 19, 2014
---
TECHCRUNCH    July 12, 2014
---
TECHCRUNCH    June 16, 2014
---
TARGET    May 28, 2014
---