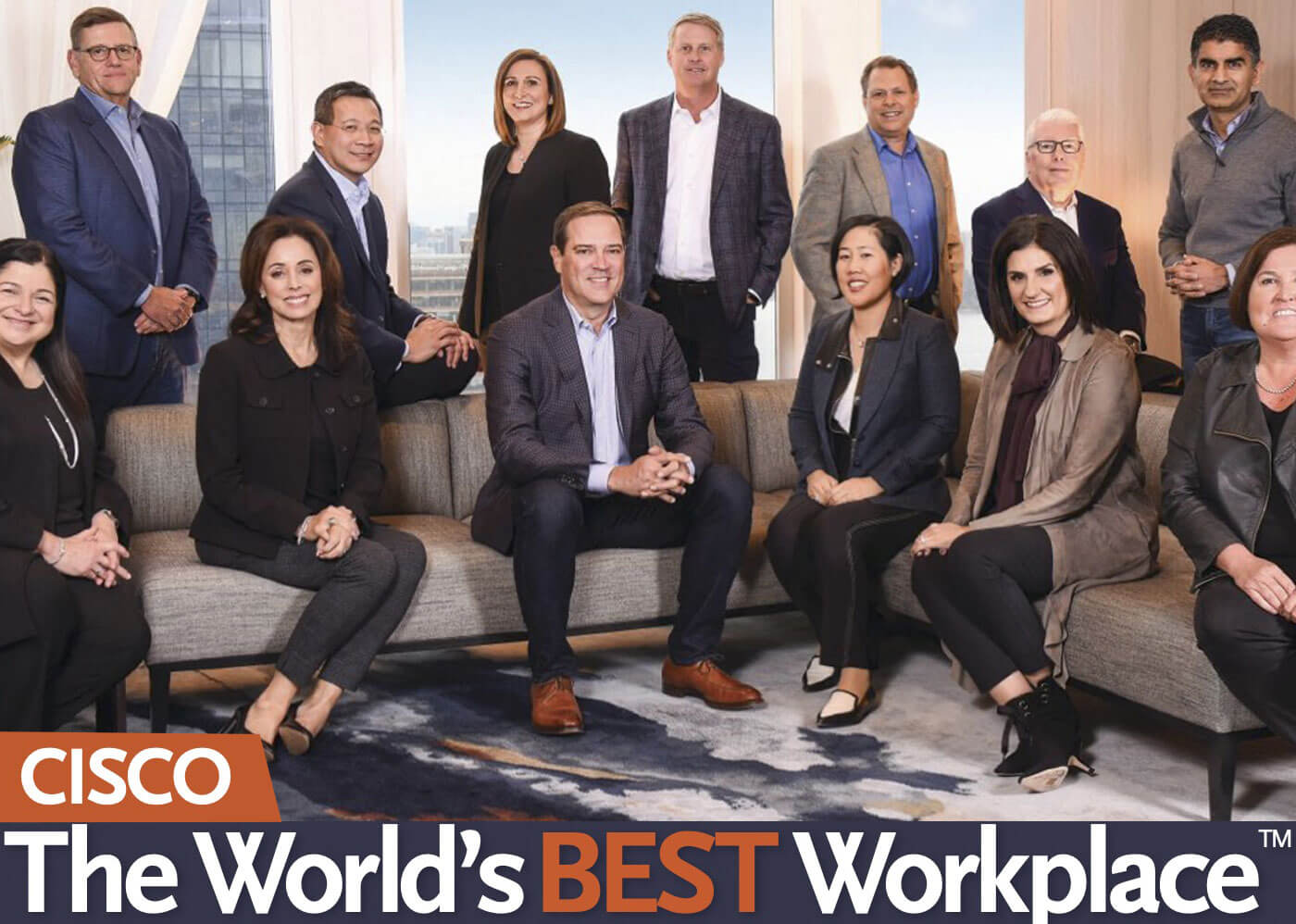 05 May

Cisco – The World's Best Workplace
Cisco's Conscious Culture
by Jackie Krentzman
CEO Chuck Robbins's quest to remake Cisco's culture into a more diverse and inclusive workplace is paying big dividends—including to the bottom line
Last fall, the organization Great Place to Work, which evaluates companies on a broad range of criteria, released its list of the World's Best Workplaces 2019.®
Cisco was named the No. 1 company in the world.
The Cisco Way
So how did Cisco shape a desirable workplace culture and succeed so mightily?
As always, change starts at the top. Note that of the 13 members of Cisco's Executive Leadership Team, six are female. That percentage (46 percent) is unprecedented in Corporate America and is even more startling in the tech sector.
Robbins details the components of building an inclusive, community-minded, winning company culture.
On teams
"My direct leadership team is 50 percent male and 50 percent female. Of the over 77,000 employees we have at Cisco, over 60 percent work for one of the female leaders in the organization. To this end, it was important to take a different approach to our interviewing process. If you start with a 50-50 slate of diverse candidates, you need to make sure the interviewing panel is also 50-50. From there, you have to let the best candidate win. Full-spectrum diversity and inclusion are something that we are continuing to work on throughout the company."
On flexibility and transparency
"When you're moving as fast as we are—and as fast as technology moves today—you have to have frequent, transparent, and authentic communications. People need to know what's happening in the business and within our teams so we can be fast and nimble. No one has time to waste on assumptions. Cisco holds a monthly all-employee meeting named the Cisco Beat, where nothing is off-limits and employees get business updates, discuss important matters, and enjoy the chance to hear open, candid conversations about what is top of mind."
On the culture of giving back
"Whether it's our Networking Academy programs (providing IT job training to more than 10 million students globally), the TacOps disaster response team that provides resources across the globe in times of emergency, or our recent commitment to homelessness in Silicon Valley, our teams are committed to giving back to their communities all around the world. It all starts with our employees, and they truly care. Healthy communities drive healthy businesses and vice versa."
These priorities may sound straightforward, even basic, but they are almost revolutionary in today's take-no-prisoners business climate. Cisco stands out because at the same time it prioritizes workplace culture and social responsibility, it has also posted impressive earnings and kept its shareholders satisfied.
Corporate Citizenship
Cisco has consistently been among the leading companies in Silicon Valley in forming close ties with the local community and applying its resources to advance the public good.
"With things that are happening in our society and communities, businesses are being asked to stand up, and I firmly believe that we have an obligation and a responsibility to get involved," says Robbins. "The Business Roundtable [Robbins sits on the board of the lobbying organization of leaders of many of America's largest corporations, and also chairs the immigration committee] recently put out a statement on the purpose of a corporation that, simply put, states that while we service our shareholders, we also service our customers, employees, suppliers, and communities. This has been core to what we have believed for a long time: healthy communities are what help businesses and people thrive."
Read More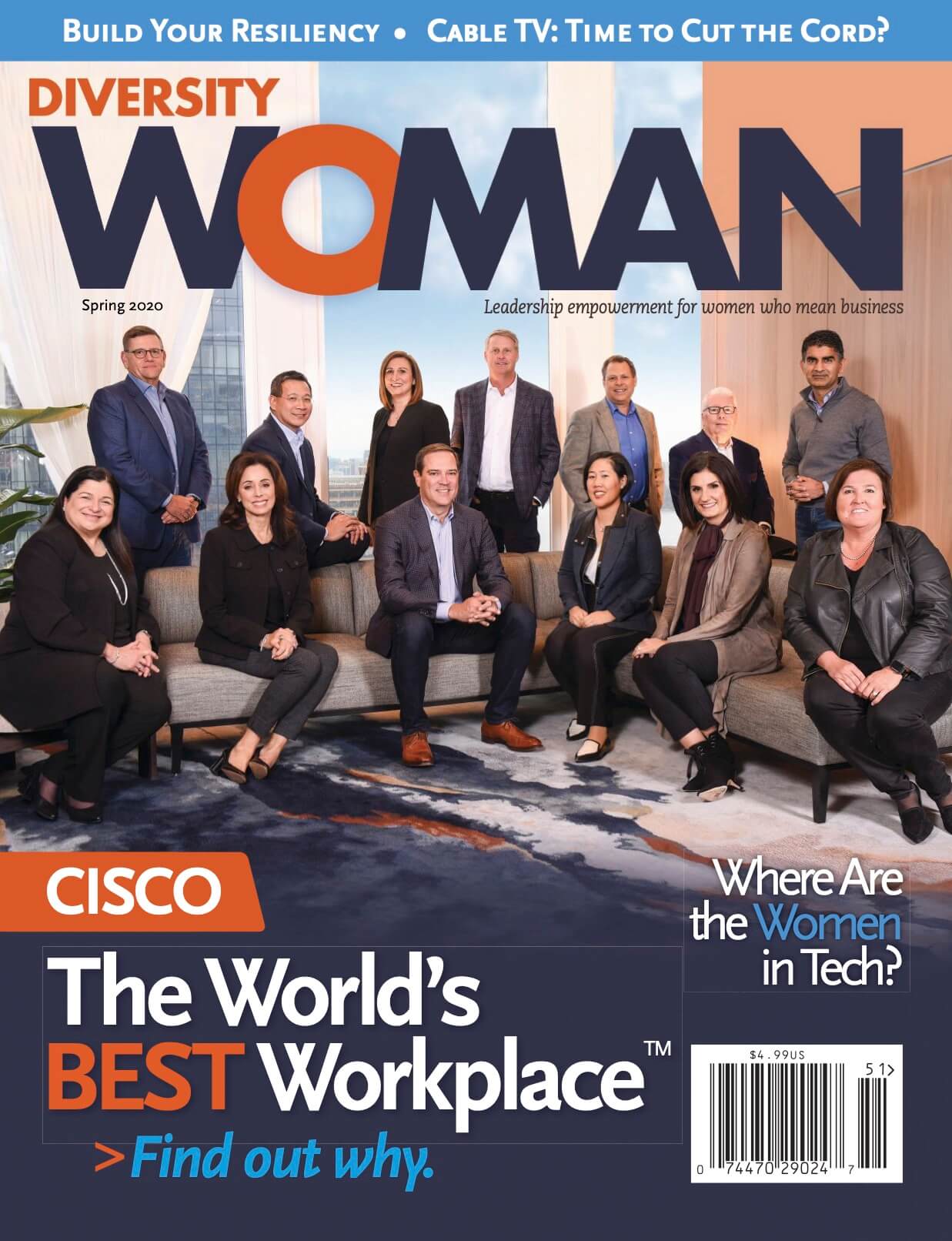 The Cisco employee base is the most diverse it has been since 1998.
Cisco has one of the most diverse executive leadership teams in the industry—46 percent women and 62 percent overall diversity in gender and/or ethnicity. (As of October 2019)
In FY19, Cisco had record representation of women across the company—26 percent. This was due in part to a record hiring rate for women of 31 percent.
Cisco has created a movement with the Multiplier Effect Pledge, which encourages leaders to commit to sponsoring one extraordinary diverse individual to the next level in the employee's career and challenging peers to do the same.
Pay parity is an ongoing commitment for Cisco. The company continually reviews its compensation system to ensure that people are paid fairly and equitably. The company has built an innovative and inclusive framework that uses powerful analytics to regularly test the compensation system and its overall health, and then fixes any gaps.
Cisco's robust Inclusion & Collaboration (I&C) Community has 29,000 employee members in 243 chapters across the globe. Through the I&C Community, employees have countless opportunities to connect with others and celebrate their diverse interests and cultures.
Fast Company September 20, 2019
As artificial intelligence (AI) and machine learning begin to make dramatic changes behind the scenes of how companies operate, hear from Cisco's Amy Chang as she shares how the customer service experience will become more personalized.
Fast Company by Amy Chang, November 29, 2019
Amy Chang of Cisco reveals how watching people walking by and observing facial expressions and body language she could discern if they were actually enjoying working together.
Marie Claire by Brooke Hauser Aug 23, 2018
Amy Chang in Marie Claire's Immigration Issue: "I grew up knowing I was going to have to bring it. Every single day. There's no free lunch. No free rides. No free anything, just sheer effort and persistence."