14 May

Looking Ahead at Next Generation Measurement – Google Analytics

Marketers today have no shortage of data. In fact, there are more than 40 million online touch points measured every minute by Google Analytics. Technology advancements are helping marketers understand their customers more across channels and devices, and better analysis tools are finally making that massive amount of data accessible and actionable. This is fueling what we see as next generation measurement. Today I spoke at the Federated Media Conversational Marketing Summit about the most important trends that every CMO needs to know. Here's what I told them:
Next generation brand measurement
In many ways, brand measurement thus far has been an article of faith – but it doesn't have to be. I think that soon you'll be able to optimize for brand like you do for performance today with concrete results, in real time. This will help brand marketers make smarter decisions while a campaign is still in flight, rather than serving as a static report card given after the fact. To do all of this, we need to bridge the online and offline gap with brand equivalency metrics that translate GRP and TRP into online reach and audience targeting.
Recently we announced our Brand Activate Initiative as a first step, which gives metrics like Active GRP to assess online brand impact using reach and frequency, in the same way marketers are all already measuring GRP for TV. Active GRP is being built into the ad serving tools that our publishers and marketers already use, with the goal of making these metrics immediately actionable. This digital brand equivalency metric for GRP is the first in a series of exciting steps we're going to see to improve measurement for brand marketers.
Next generation attribution
Over the last few years, we've made great leaps in the art of single channel measurement – identifying the right metrics in isolation for channels like TV, display, search and mobile. It's time now to bring the channels together and figure out how they impact each other. In other words, we have to move from silo to portfolio.
At Google Analytics, we're finding that on average, customers interact with a brand 4.3 times over a two day period before they finally make a purchase. We're also seeing channels like mobile grow tremendously. For instance, mobile is now 8% of all conversions that we're seeing in Google Analytics, and mobile conversions have grown by about 180% in just the last year. So you can't afford not to know what paths customers are taking before they ultimately buy from you.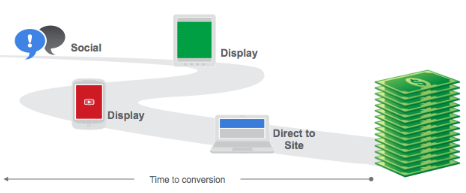 But in a recent study, more than 40% of marketers said that their main struggle with attribution is choosing the right model to even get started. We hear these struggles every day, and provide tools like Multi-Channel Funnels and Attribution Modeling to help marketers get started. Though there isn't a one size fits all model, what we'll begin to see in the industry is empirically-derived attribution models customized by industry and marketing objectives, which marketers can use as a base for experimentation.
It's an exciting time in measurement, where data and marketing are finally getting married. I'm genuinely excited about what's in front of us, and I hope you are too!
Posted by Amy Chang, Global Head of Product, Google Analytics
View Article