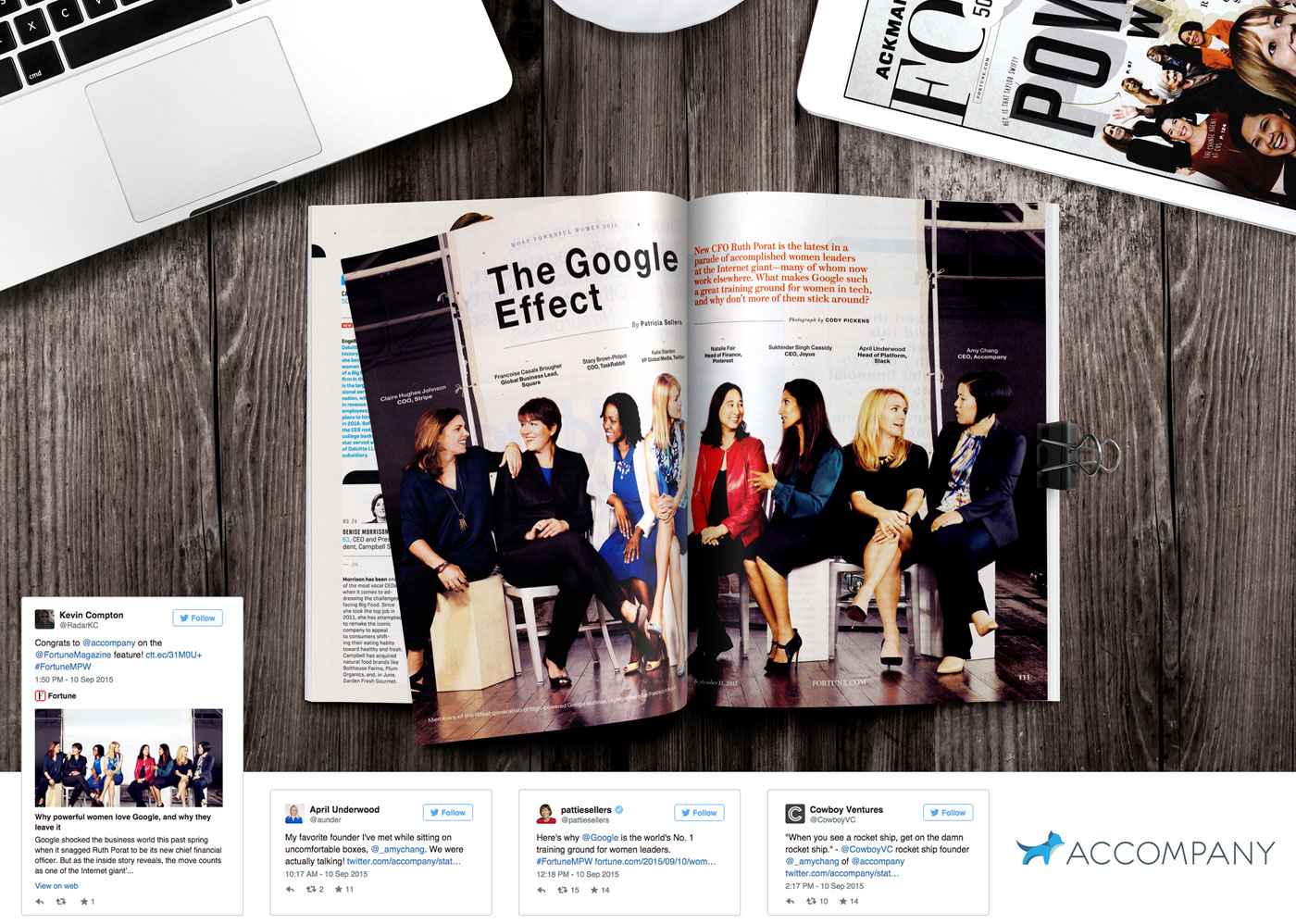 10 Sep

Fortune Most Powerful Women – Why Powerful Women Love Google & Why They Leave It MPW

From left to right: Claire Hughes Johnson, COO, Stripe; Francoise Casals Brougher, Global Business Lead, Square; Stacy Brown Philpot, COO, TaskRabbit; Katie Stanton, VP Global Media, Twitter; Natalie Fair, Head of Finance, Pinterest; Sukhinder Singh Cassidy, CEO, Joyus; April Underwood, Head of Platform, Slack; Amy Chang, CEO, Accompany
Photograph by Cody Pickens for Fortune

By Patricia Sellers
September 10, 2015

Google shocked the business world this past spring when it snagged Ruth Porat to be its new chief financial officer. But as the inside story reveals, the move counts as one of the Internet giant's easier moonshots.

The wooing began unwittingly early this year, when Google executive chairman Eric Schmidt visited Porat at Morgan Stanley (MS), where she was CFO. Schmidt had worked with Porat a decade earlier, when she co-headed tech investment banking at the firm and played a key role in taking Google public. He didn't know her well, however, and his visit was purely casual. He didn't tell Porat that Google's current finance chief was considering leaving, or that Google (GOOG) would probably need a new CFO—a sophisticated, battle-tested veteran—to oversee a complex corporate restructuring.

…

Even for the brightest Googlers, striking out on their own can be frightening. Amy Chang, who spent eight years at the company and built a 300-person Google Analytics team, left in 2012 to "create something from scratch," as she says. Chang started Accompany, which makes a "relationship management" app to help organize your contacts, with two co-founders: her husband, Ryan McDonough, a finance expert, and Matthias Ruhl, a former senior research scientist at Google. Chang is Accompany's CEO, overseeing 30 employees and $20.6 million in funding. She says she feels as if she's flying without a parachute: "I wake up at 2 o'clock in the morning saying 'Ohmigod, what if I fail?' That didn't happen at Google."

Here's why: A company that owns the world's largest digital-distribution platform can make smart employees think they're smarter than they are. Google's vast user base turns successes into blockbusters; the monetary fruits of the hits cushion the blows from the misfires. "It's a wonderful luxury," says Chang. "Google teaches you so much, but it also buffers and protects you." Sukhinder Singh Cassidy, former president of Google's Asia-Pacific and Latin American operations, agrees. The challenge for ex-Google entrepreneurs, she says, is "to create a flywheel that can succeed without that juice." Cassidy, 45, spent six years at Google until creeping bureaucracy led her to quit in 2009. She headed social-shopping site Polyvore briefly and then started Joyus, a video-shopping service that she hopes will be the next HSN or QVC. She has 60 employees—two-thirds of them female—and has raised more than $40 million.

…

View Article
Fortune by Kristen Bellstrom, October 22, 2019
Even for the brightest Googlers, striking out on their own can be frightening. Amy Chang, who spent eight years at the company and built a 300-person Google Analytics team, left in 2012 to "create something from scratch," as she says.
Fortune by Beth Kowitt, July 18, 2019
At Fortune's Brainstorm Tech in Aspen, Colo., on Wednesday, a panel of experienced board directors tackled the question of how to change the composition of corporate boards and why doing so is critical.
Fortune by Leena Rao, August 3, 2016
When Google product executive Amy Chang was trying to sell premium versions of Google Analytics to companies, she would find herself in rooms of 15 to 20 people, many of whom she had met for the first time. "I didn't have time to look up their bios and prep 20 different briefing docs on everyone," Chang explained.